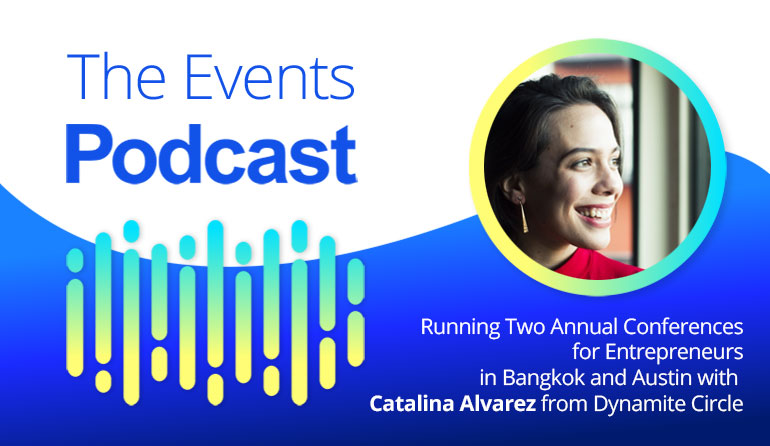 Running Two Annual Conferences for Entrepreneurs in Bangkok and Austin with Catalina Alvarez from Dynamite Circle
Nov 15th, 2018 by The Events Podcast
Listen on: iTunes / Podbean / Stitcher / Spotify / YouTube / Sign up for our newsletter for more info on getting you started running amazing events.
This is an amazing interview to hear from to a conference organizer about how she plans, markets and runs large events. Catalina manages two annual conferences in Austin and Bangkok for a group for 'location independent entrepreneurs' called the Dynamite Circle founded by Dan and Ian from The Tropical MBA which I'm also a member of.
On the interview we discuss:
How Catalina moved from Spain to Miami then went to work in China aged just 18
What it was like living in Shenzhen
How she came to work for the Dynamite Circle
How they sell a lot of tickets for the next year right after the end of the conference, and before the dates are even announced!
The pros and cons of holding an annual conference in the same venue versus moving it around
The problems in Asia with customs when your shipping packages from sponsors worldwide
How the payment schedule works when working with conference hotels
Why you might not want to use a hotel for the first year of a conference
How conference hotels in the US are way more expensive then in Asia and charge for every extra
How they start very early looking for sponsors and speakers
How people love to hear real stories from their peers rather than professional speakers
How they go for 'actionable;' rather than 'inspirational' sessions
How they send a feedback form right after the event
How they run three whole days of pre conference sessions at the hotel
How they sometimes have to find replacement speakers at the last minute
The structure of their conference team
How they organize a team of volunteers to help run the actual conference
How they use Attendify App and EventsFrame
How the party venues change hands so often in Bangkok that they always need to find new ones
How they have a 'Master of Ceremonies' for the whole event to introduce everyone on stage and also coordinate the parties.
This podcast is brought to you by www.eventsframe.com - Effortless ticketing and attendee management with NO ticket fees....Make the switch from Eventbrite today. Email dan@eventsframe.com with the subject line 'PODCAST' for a special discount code.
I hope you enjoyed the podcast and if you did please leave us an iTunes review it really means a lot to us !
Finally please join our Facebook Community of #eventprofs to keep the learning going
Get in touch with me via dantaylor.me
Connect with Catalina on LinkedIn or email catalina@dynamitecircle.com
Sign up to get exclusive offers and updates on our latest feature releases!
Share
|
Download