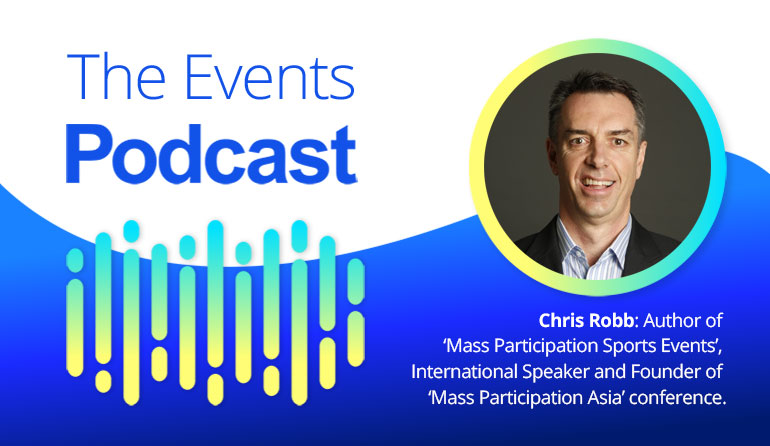 Chris Robb: Author of 'Mass Participation Sports Events', International Speaker and Founder of 'Mass Participation Asia' conference.
Nov 22nd, 2018 by The Events Podcast
Listen on: iTunes / Podbean / Stitcher / Spotify / YouTube / Sign up for our newsletter for more info on getting you started running amazing events.
Chris Robb has done a lot! From running events at his school growing up in Zimbabwe to being the road manager for the Sydney Olympics. He founded the Singapore Marathon and sold it to Ironman before launching is career as an international consultant and speaker. He now lives in Bali and runs the Mass Participation Asia conference and is a sought after speaker and consultant
On the interview we discuss:
How Chris organized a running event at his school to pay for the school running track to be resurfaced

How he went to University in South Africa and ran events there

What are the business models for mass participation sporting events

Moving to Sydney and working on the Olympics as road manager

The huge rise of 'Tough Mudder' style races

Starting the Singapore Marathon and selling it to Ironman

Why he moved to Bali

His advice for people wanting to speak at conferences

What are the opportunities for entrepreneurs to start a new event now
This podcast is brought to you by www.eventsframe.com - Effortless ticketing and attendee management with NO ticket fees....Make the switch from Eventbrite today. Email dan@eventsframe.com with the subject line 'PODCAST' for a special discount code.
I hope you enjoyed the podcast and if you did please leave us an iTunes review it really means a lot to us!
Finally please join our Facebook Community of #eventprofs to keep the learning going
Get in touch with me via dantaylor.me
More information on Chris can be found on the links below:
https://www.linkedin.com/in/chris-robb/
http://massparticipationasia.com
Sign up to get exclusive offers and updates on our latest feature releases!
Share
|
Download