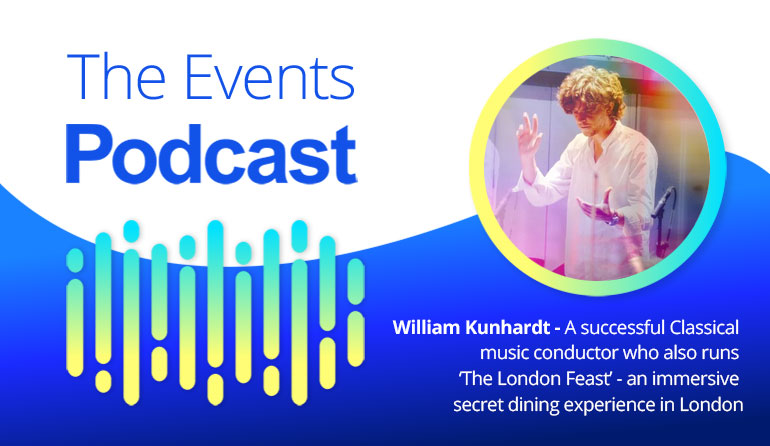 William Kunhardt - A successful Classical music conductor who also runs 'The London Feast' - an immersive secret dining experience in London
Nov 8th, 2018 by The Events Podcast
Listen on: iTunes / Podbean / Stitcher / Spotify / YouTube / Sign up for our newsletter for more info on getting you started running amazing events.
This was my favourite interview so far and I think you will really like it! Will Kunhardt is a fascinating guy…. A classically trained violinist who wanted to be a conductor and got his start by putting on his own concerts instead of waiting to he hired.
Will parlayed that into founding his own Orchestra (called the Arensky Chamber Orchestra) then co founding a company to run a series of epic 'Immersive Experiences' in London, including one coming up in December 2018 called The Great Christmas Feast..a 'secret dining experience' experience based around Charles Dickens 'Christmas Carol.'
We talk a lot about how Will still remains creative and works as a musician and composer while retaining full control over his creations and running a profit making business.
On the interview we talk about:
How Will got his start as a classical music conductor by putting on his own events

How becoming a conductor is more competitive than becoming a premiership footballer

How Beethoven, Mozart and Wagner were hardcore promoters and hustlers

How Will founded his own orchestra

How Will had to get good at getting Government arts funding for his orchestra to survive

How he co founded an events company

The Lost Estate

to put on immersive experiences, including

The Great Masked Ball

, based around Swan Lake

How Will promoted their events almost exclusively using Facebook ads, which he taught himself despite not being a Facebook user.

How the 'Immersive Experience' events category is a huge and growing one

The influence of the 'Four Hour Work Week' book by Tim Ferriss on both our businesses

How Dickens 'The Christmas Carol' essentially rebooked Christmas and gave us many of the traditions we still enjoy today

The level of analysis Wil does for his events. Thinking at every stage how will this make the attendee feel.

Gary Vaynerchuks phrase 'Clouds and Dirt'....how it's important to get into the high level vision to produce something amazing, while still getting into the nitty gritty logistics to make an event work
I hope you enjoyed the podcast as much as I enjoyed talking to Will and if you did please leave us an iTunes review it really means a lot to us !
Finally please join our Facebook Community of #eventprofs to keep the learning going
And get in touch with me via dantaylor.me
This podcast is brought to you by www.eventsframe.com - Effortless ticketing and attendee management with NO ticket fees. Email dan@eventsframe.com with the subject line 'PODCAST' for a special discount code.
Visit https://www.thelostestate.com/ for more information on William Kunhardt and if you can get to London anytime in December then I can't recommend highly enough to check out The Great Christmas Feast.
Sign up to get exclusive offers and updates on our latest feature releases!
Share
|
Download