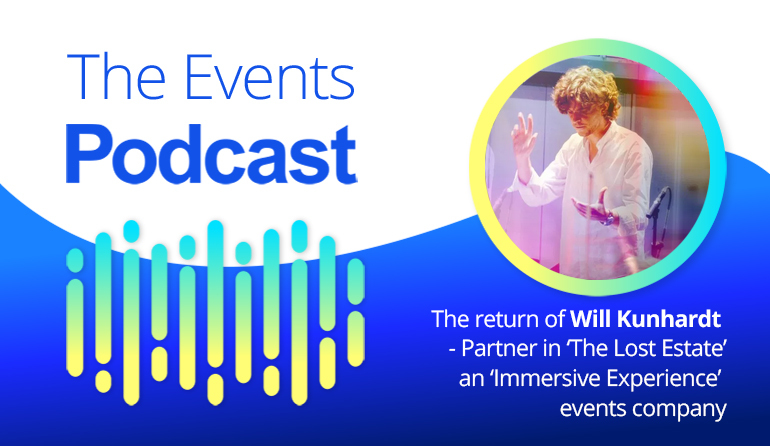 The return of Will Kunhardt - Partner in 'The Lost Estate', an 'Immersive Experience' events company
Feb 28th, 2019 by The Events Podcast
Listen on: iTunes / Podbean / Stitcher / Spotify / YouTube / Sign up for our newsletter, delivered every Friday for the latest Podcast and more info on getting you started running amazing events.
By popular demand we have Will Kunhardt returning to the podcast for the second time. If you didn't get to check out Will's first appearance and talk about his journey from classical conductor to 'immersive events' mogul it's a 'must listen' so check it out wherever you listen to your podcasts. There's also a direct link below:
This interview takes place three months after the last one. Will has just finished an epic two month run of the Great Christmas Feast in London, an 'Immersive Experience' on an epic scale….every day for two months….so we get into all the stories while they are still fresh in his mind.
This interview is amazing in that we have some inspiring 'big picture' visions of someone building a growing company, combined with some actionable tips to get attendees to your events right now. In this interview we discuss:
The problems setting up the feast, including his idea to bring a crane in at midnight to Central London to secretly lift in kitchen equipment

The importance of recruiting a good Project Manager and how Will didn't need to be there 'in person

Will talks about going full time and founding his events company

The Lost Estate

Will talks about what's next

The Lost Love Speakeasy

his most ambitions event yet and one with no end date.

Their plans for an agency to help other run 'Immersive Experiences'

We give you some AMAZING and actionable tips to help promote your events including:

Lead ads for Instagram

Multiple landing pages for different interests - micro targeting

Divi for Wordpress

YouTube pre roll ads

Two layered ads on Facebook
This podcast is sponsored by www.eventsframe.com - Effortless ticketing and attendee management with NO ticket fees and plans from just $20.month! Email dan@eventsframe.com with the subject line 'PODCAST' for a special secret discount code.
I hope you enjoyed the podcast and if you did please leave us a review anywhere on the web it really means a lot to us !
Finally please join our Facebook Community of #eventprofs to keep the learning going…. and get in touch with me via dantaylor.me
Sign up to our newsletter, delivered every Friday to get notified when the podcast is live, plus the latest events news of the week!
More information on Will can be found on below:
https://www.thelostestate.com/
http://lostlovespeakeasy.thelostestate.com/
Will email will@theaco.co.uk
Share
|
Download