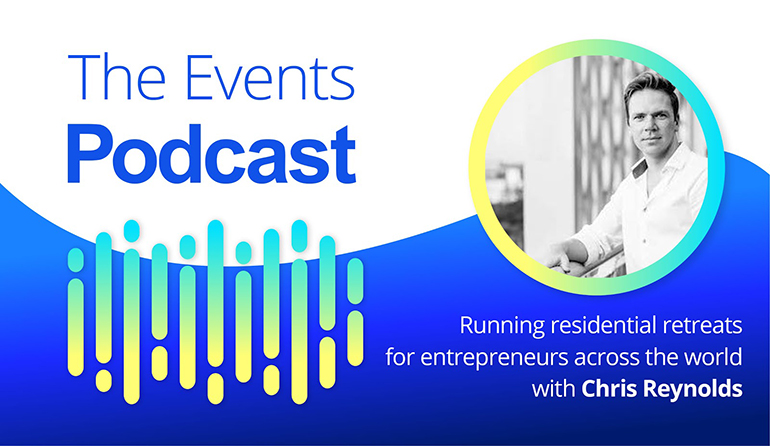 Running residential retreats for entrepreneurs across the world with Chris Reynolds
Oct 16th, 2018 by The Events Podcast
Listen on: iTunes / Podbean / Stitcher / Spotify / YouTube / Sign up for our newsletter for more info on getting you started running amazing events.
This podcast is brought to you by www.eventsframe.com - Effortless ticketing and attendee management with NO ticket fees....Make the switch from Eventbrite today! Email dan@eventsframe.com with the subject line 'PODCAST' for a special discount code.
On this week's episode of 'The Events Podcast' I spoke with Chris Reynolds from The Business Method. I was lucky enough to be interviewed on Chris's podcast so it's great to get him on ours.
We are both part of an entrepreneurs group called the 'DC' and have met in person a few times but I didn't know much about his background so it was cool to dig in and talk about his background and how it led to his events.
Chris ran charity projects in Costa Rica, Peru and Africa where he got a taste for running live events. This led him to run 'The Entrepreneur House', a productivity focused residential retreat in multiple cities including Barcelona and Chiang Mai. Chris started off running his events over two months which is a pretty herculean feat!... but has now reduced it down to 10 days.
Chris travels full time with is girlfriend although he likes to stay in one place for several months at a time and told me the term 'slowmad' which I hadn't heard before to describe this lifestyle.
Chris is a Podcasting machine and he's produced close to 400 podcast episodes that I can find! Podcasting is a major sales funnel for his events but we discussed about how this is a long term proposition and you need to really enjoy it. The second major sales funnel is posting in forms and groups that Chris is a part of. Chris shares his content widely on social media (Reddit, Facebook, Twitter, Instagram) and this also helps with attendees but no one platform worked especially well for him.
Along with the events Chris runs productivity coaching and the podcast also helps him get new clients for this.
In terms of the logistics of the events Chris makes it a super casual format with fixed sessions then free time in between and the attendees often organise trips etc by themselves. Chris gets involved to make sure everyone is having a good time and to keep the group dynamic good, although with the kind of people he attracts it's always a friendly crowd.
I hope you enjoyed the podcast and if you did please leave us an iTunes review it really means a lot to us !
Finally please join our Facebook Community of #eventprofs to keep the learning going
You can email me at dan@eventsframe.com
Get in touch with me on social or book a chat via dantaylor.me
More info about Chris is below and you can get in touch with him via his website below
https://www.thebusinessmethod.com/
Sign up to get exclusive offers and updates on our latest feature releases!
Share
|
Download