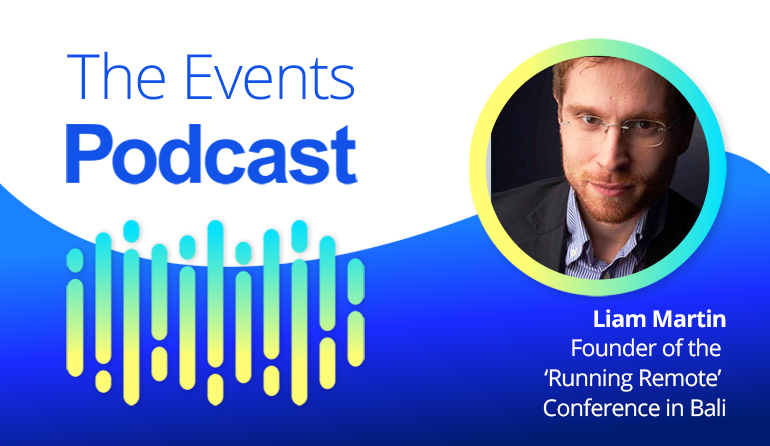 Liam Martin - Founder of the 'Running Remote' Conference in Bali
Feb 21st, 2019 by The Events Podcast
Listen on: iTunes / Podbean / Stitcher / Spotify / YouTube / Sign up for our newsletter - delivered every Friday with the latest Podcast episode and more tips on helping you run amazing events.
Liam is the founder of TimeDoctor and staff.com and also runs the 'Running Remote' conference in Bali. In this interview we discuss:
How Liam started off with a plan to be a Sociology professor but it didn't work out as he wasn't good at teaching

How he started the conference by finding a niche that no existing conference was serving (a great tip for listeners

Why Liam wears his 'Running Remote Conference' t shirt every time he speaks at another conference

We discuss how not many people talk about the economics of running a conference (apart from The Events Podcast)

How Liam focused heavily on the financials to make sure he didn't lose money

How you can get hotels to pay you 10-20% of all room booking fees

How to negotiate with hotels

How he is dealing with local governments who want to pay to bring his conference to them as they want to attract remote workers

How it's way easier to get sponsors for your second conference (Liam 10x'd his prices!)

How he gets to break even just from sponsors

Pro Tip: Get speakers to record a promo video to show they are speaking at your event - great social proof

They sold 9% of tickets in first month, 19% in second, 30% in third, 15% in fourth, 28% in fifth, 10% in sixth

Pro Tip: If you can get 50% of conference attendees to come again next year you are doing great

How they made a mistake only having vegetarian food in year one

If you have a VIP party….then charge for it

How he got all his speakers Diplomatic Immunity!
 This podcast is sponsored by www.eventsframe.com - Effortless ticketing and attendee management with NO ticket fees and plans from just $20.month! Email dan@eventsframe.com with the subject line 'PODCAST' for a special secret discount code.
I hope you enjoyed the podcast and if you did please leave us a review anywhere on the web it really means a lot to us !
Finally please join our Facebook Community of #eventprofs to keep the learning going…. and get in touch with me via dantaylor.me
Sign up to our newsletter, delivered every Friday to get notified when the podcast is live, plus the latest events news of the week!
More information on Liam can be found on https://runningremote.com
Share
|
Download