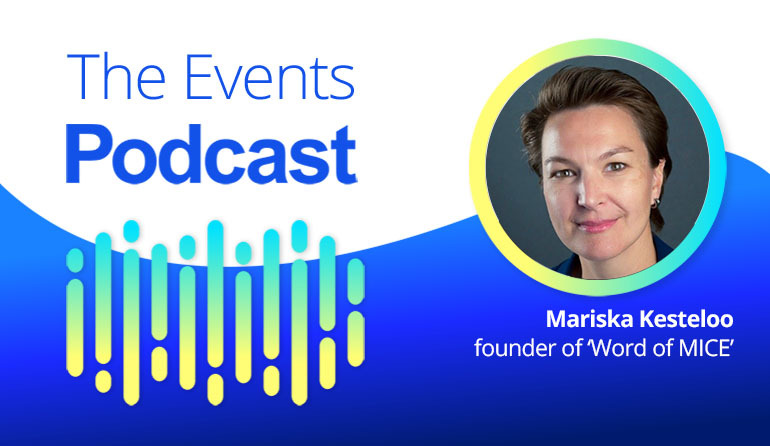 Influencer Marketing and Social Media Marketing with Mariska Kesteloo, founder of 'Word of MICE'
Mar 21st, 2019 by The Events Podcast
Listen on: iTunes / Podbean / Stitcher / Spotify / YouTube / Sign up for our newsletter, delivered every Friday for the latest Podcast and more info on getting you started running amazing events.
The world of social media marketing is one I'm just getting to grips with so it was great to talk with Masiska who is an expert on the topic. She has worked not only with event organisers but with hotels, resorts and destinations which is interesting to hear about things from the other side also.
'Social media influencers' has a lot of negative connotations (to me anyway) but Mariska explains how to find experts in your field and how you can use influencers to make your event a success ...even on zero budget.
In this interview we discuss:
What are social media influencers and how can you use them even on zero budget

Learn how your speakers are an influencer that you can use to support your event (Connected point: Check out the

interview with Liam Martin

and his tips on how to get your speakers to record YouTube promo videos)

The 'MPI' organization and how attending it's meetups can help you build a career in the events industry

How to make a standard promo post about your event and give it to your speakers and anyone else involved in your event to promote

The importance of looking at social media as a conversation, not just you promoting yourself

Why LinkedIn is still Mariska's favourite channel as it's completely business focussed

Some great tips on how to connect with people on LinkedIn and use 'sales navigator' successfully

How to negotiate with venues and use your social media marketing to help this
The podcast is sponsored by www.eventsframe.com - Effortless ticketing and attendee management with NO ticket fees and plans from just $20/month! Email dan@eventsframe.com with the subject line 'PODCAST' for a special secret discount code ;)
I hope you enjoyed the podcast and please leave us a review anywhere on the web it really means a lot to us!
Finally please join our Facebook Community of #eventprofs to keep the learning going…. and get in touch with me via dantaylor.me
Sign up to our newsletter, delivered every Friday to get notified when the podcast is live, plus the latest events news of the week!
More information on Mariska can be found below:
https://www.linkedin.com/in/mariska-kesteloo-influencermarketing/
Share
|
Download