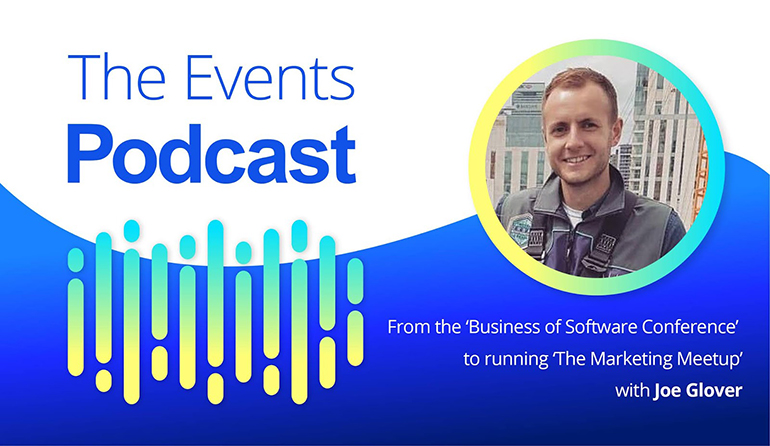 From the 'Business of Software Conference' to running 'The Marketing Meetup' with Joe Glover
Oct 10th, 2018 by The Events Podcast
Listen on: iTunes / Podbean / Stitcher / Spotify / YouTube / Sign up for our newsletter for more info on getting you started running amazing events.
This podcast is brought to you by www.eventsframe.com - Effortless ticketing and attendee management with NO ticket fees....Make the switch from Eventbrite today ! Email dan@eventsframe.com with the subject line 'PODCAST' for a special discount code.
On this week's episode of 'The Events Podcast' I spoke with Joe Glover from The Marketing Meetup and it was a really interesting chat. Joe started off doing marketing for the 'Business of Software Conference', which is a big deal for the SaaS community, where he ran the marketing for the UK and USA conferences.
They were lucky in that one of the founders was Joel Spolsky who already had a huge audience and this always makes promoting an event 10x easier. Their main marketing method they used was recorded videos of all the speakers at the conference and releasing them gradually throughout the year, with email opt in (using Wistia). Once they had email addresses they then marketed the conference via an email sequence.
We discussed event location and how they went for the approach of keeping the same venue so it had a familiar homely feel that attendees wanted to make a regular part of their year. I have mixed feelings on this as sometimes a new venue or new city each year keeps the conference feeling fresh.
Moving on Joe founded The Marketing Meetup as an event in Cambridge to meet other marketers and had 30 people to the first event. He promotes with Meetup.com and LinkedIn (adding friend requests).
Joe monetises the event with sponsors,. He drew up a list of companies, then approached the CEO (again on LinkedIn). He made the events monthly and holds the event at a sponsors offices so no fees and another sponsor pays for drinks. He has a Facebook community which he has to approve members and he finds this is really useful.
Joe has now started a 'franchise' model for other cities where other people run the events and find the sponsors and keep 70% of the revenue. ALso rally interesting that Joe does all this while working a full time job
I hope you enjoyed the podcast and if you did please leave us an iTunes review it really means a lot to us !
Finally please join our Facebook Community of #eventprofs to keep the learning going
You can email me at dan@eventsframe.com
Get in touch with me via dantaylor.me
More info about Joe is below and if you're into marketing he'd love to her from you
@josepheglover
joe@themarketingmeetup.com
themarketingmeetup.com
Sign up to get exclusive offers and updates on our latest feature releases!
Share
|
Download