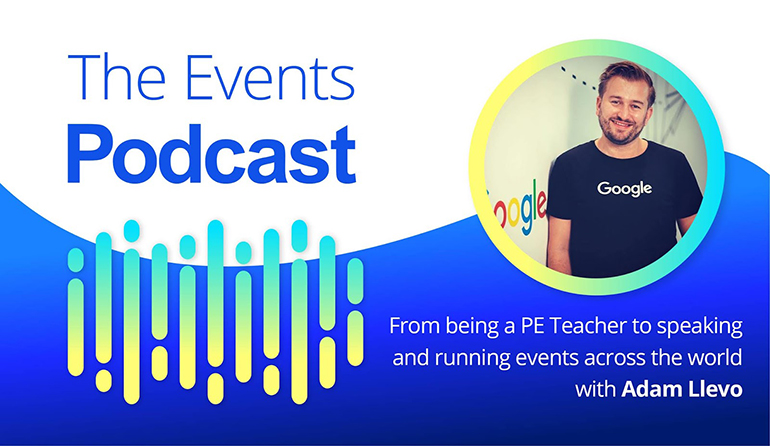 From being a PE Teacher to speaking and running events across the world with Adam Llevo
Oct 3rd, 2018 by The Events Podcast
Listen on: iTunes / Podbean / Stitcher / Spotify / YouTube / Sign up for our newsletter for more info on getting you started running amazing events.
This podcast is brought to you by www.eventsframe.com - Effortless ticketing and attendee management with NO ticket fees....Make the switch from Eventbrite today! Email dan@eventsframe.com with the subject line 'Podcast' for a special discount code.
On this week's episode of 'The Events Podcast' I was spoke with Adam Levo from mradampe.com . It was a really interesting chat and relevant both to teachers and employees looking to start speaking at conferences and running their own events.
Adam started as PE Teacher in the UK before heading off for some world travels and working in International Schools in Shanghai and Saudi Arabia.
Adam's main advice for teachers and others looking to speak at conferences is to build a solid online presence and start sharing content, specifically posting all your presentations on Twitter and your blog. Also all his blog posts have a 'call to action' where he looks to get an email address, for example buy giving away an eBook or some content.
Also we discussed about not being greedy up front :) Adam picked the conferences he wanted to visit as an attendee anyway, then asked to speak. Only later did he ask for expenses or a fee, sometimes on his second or third visit to the conference. I can't emphasise this enough for new speakers…. 'Don't ask for money until you really deserve it!' Also at the event help out with everything! The organizer will love you and be MUCH more likely to work with you in the future.
I hope you enjoyed the podcast and if you did please leave us an iTunes review it means a lot! You can email me at dan@eventsframe.com or get in touch with me via dantaylor.me
More info about Adam is below and if you're a school looking to turbo charge the use of technology in your pE department he'd love to her from you
Adam is a physical educator originally from England, but has taught in the UK, China and Saudi Arabia across all age groups. He has presented at a number of conferences around the world sharing his love of physical education and meaningful technology to educators from all subjects. When Adam is not teaching he enjoys collaborating on projects with practitioners from across the globe and sharing his knowledge, via his blog or social media. Adam is a Google Certified Educator, Google Innovator, Google Trainer and Apple Teacher. He has a passion to use his knowledge to make life easier, by working smarter, not harder.
Checkout his blog: mradampe.com or his new Google Innovation project chargedupeducation.com
CV:
Linkedin: www.linkedin.com/in/mradampe/
Linkedin Recommendations: https://goo.gl/3qiS3E
Twitter Profile: https://twitter.com/MrAdamPE
Facebook Page: https://www.facebook.com/mradampe/
Instagram Feed: https://www.instagram.com/mradampe/
Google +: https://plus.google.com/u/0/+AdamLlevoPE
Sign up to get exclusive offers and updates on our latest feature releases!
Share
|
Download