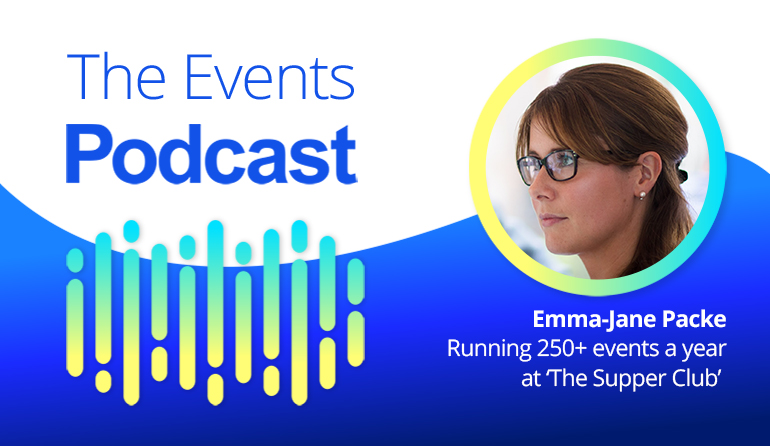 Emma-Jane Packe - Running 250+ events a year at 'The Supper Club' a membership group for successful entrepreneurs in the UK
Dec 27th, 2018 by The Events Podcast
Listen on: iTunes / Podbean / Stitcher / Spotify / YouTube / Sign up for our newsletter for more info on getting you started running amazing events.
On the interview we talk about:
How Emma-Jane started off in sales and how we think it's the best grounding for being an entrepreneur
How the Supper Club grew as an events focussed community to 450 members
I hope you enjoyed the podcast as much as I enjoyed talking to Will and if you did please leave us an iTunes review it really means a lot to us !
Finally please join our Facebook Community of #eventprofs to keep the learning going…. and get in touch with me via dantaylor.me
This podcast is brought to you by www.eventsframe.com - Effortless ticketing and attendee management with NO ticket fees. Email dan@eventsframe.com with the subject line 'PODCAST' for a special discount code.
More information on Emma-Jane is below
Emma-Jane Packe (EJ), Managing Director of The Supper Club
Biography
Emma-Jane (EJ) is Managing Director of The Supper Club, a membership community exclusively for high growth entrepreneurs with revenues ranging between £1 million and £500 million. Founded in 2003, its mission is to inspire an entrepreneurial mindset in ALL leaders. EJ is passionate about enterprise and after consulting on a start up at post product stage she was inspired to get more involved with entrepreneurial businesses. She now supports fast growth business owners and their teams and enjoys meeting some of the country's most inspiring minds daily. She is also an authority in developing successful teams. Her insight comes from working with and talking to hundreds of entrepreneurs and business leaders about their experiences as well as growing her own teams across Europe.
The Supper Club
The Supper Club is an exclusive membership community of over 450 inspirational founders and CEOs of high growth businesses. Since 2003, we have enabled thousands of members to realise their growth ambitions. The average growth of our members is 34 per cent year on year with average sales from £1m to £500m. We support members through all stages of the entrepreneur lifecycle, from scale to sale and beyond. The Supper Club is highly valued for the quality and diversity of its membership, event experiences and pro-active personal support. We bring the right members together at the right time to support each other in their journeys by sharing the hard-learned lessons along the way.
Sign up to get exclusive offers and updates on our latest feature releases!
Share
|
Download