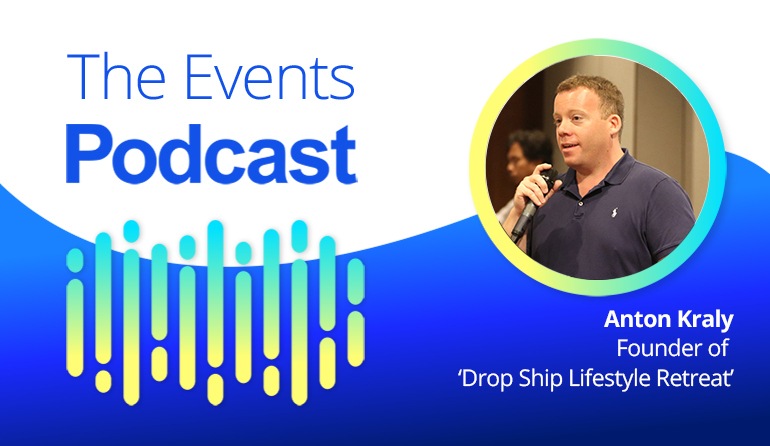 Anton Kraly - Founder of 'Drop Ship Lifestyle Retreat'
Mar 7th, 2019 by The Events Podcast
Listen on: iTunes / Podbean / Stitcher / Spotify / YouTube / Sign up for our newsletter-delivered every Friday to get notified when the podcast is live, plus we send you weekly tips that you can use right now to run profitable events!
Anton runs the hugely popular website Dropship lifestyle where he teaches people to set up and run dropship stores…. a really interesting business model where you set up an online store with no inventory and of course run your business from anywhere.
In this interview we discuss:
What is drop shipping? And how it is a great way to make money online

How Anton structures his business with an office in Austin and a Philippines remote team

How Anton runs annual retreats for his community for around 100 people in locations such as Thailand, Hawaii, Prague and more!

What he's learned from over six years of continuously running an annual event
This podcast is sponsored by www.eventsframe.com - Effortless ticketing and attendee management with NO ticket fees and plans from just $20/month! Email dan@eventsframe.com with the subject line 'PODCAST' for a special secret discount code.
I hope you enjoyed the podcast and if you did please share the podcast with one person you think will enjoy it. This REALLY helps us.
Finally please join our Facebook Community of #eventprofs to keep the learning going…. and get in touch with me via dantaylor.me
More information on Anton can be found at https://www.dropshiplifestyle.com/retreat/
Share
|
Download